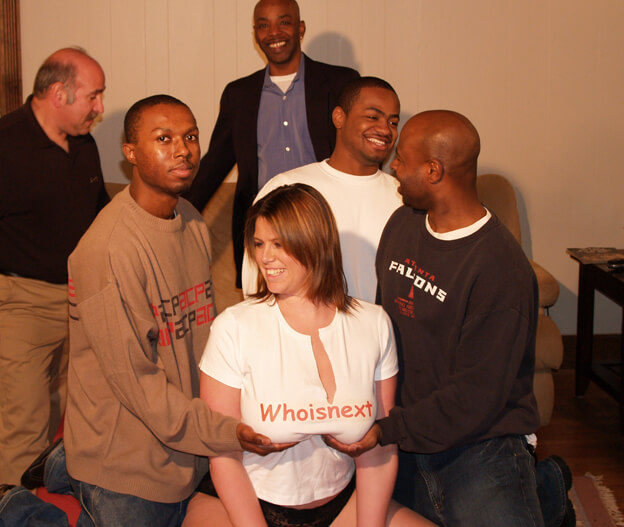 Meet 'N Greet
Hey guys!! My name is Lisa Sparxxx, I'm a busty slut wife turned porn slut with a never ending hunger for random dick. I'm a all natural southern girl gone wild. I'm a REAL wife and I have sex with REAL strangers. I love to fuck random cock. I love to be gangbanged, I love bukkake, the more cocks and cum the merrier. I'm a very wild girl. When I feel naughty I'm just going out to find some guys. I love to fuck in random spots whether it be, in the bed, in a club, in a dirty public restroom, in the bushes, in a alley, backseat of your car, I love to fuck anywhere. Do you want to meet me live in person at your next party? You may or may not know a majority of the movies I'm in are in fact with you my fans. That's right I shoot with my fans a lot. Why? Well I like meeting new people and I like to show you all that just because I do porn does not mean that we are all stuck up and bitchy. I like to show the fans that you can actually fuck me. It is my hope that after you read this page you will know everything you want to know about how to set up a meet 'n greet. 
Please read through all sections as there is a lot of information. I am always looking for several fans to host a blowbang, or a bukkake party or a full on gangbang. There are no staged settings, no actors, only real guys fucking me. All movies are filmed at real locations, such as adult theaters, pubs, bars, clubs, hotels, house, woods etc. For example, if you watch me sucking cocks at the gloryhole, it's a real gloryhole in a real theater which I've visited during its usual opening time, with real strangers at the other side of the wall. Men I've never seen before... 

Stuff You Need To Know

The following is VERY important stuff that you really need to know. Before we meet you must agree to everything below.

Rules:
*Must be CLEAN!!
Well groomed (yes, cock too nobody likes a face full of bush) and disease-free. Please take a shower before arriving.

*Must bring a current state or government issued photo ID (Drivers License, ID Card, Passport)?
Yes, this is for video production purposes.

*You MUST sign a model release for our paperwork
. Everybody who joins a meet 'n greet party has to agree that we film these parties and that we use the content for my website here at LisaSparxxx.com. We don't film your face, you may wear a mask or anything you feel comfortable wearing.

*Must bring a hard cock
(I don't care about: race, height, weight, cock size)

*Must be able to fuck me hard. I want it to HURT! 

*Must perform under HOT lights
and in front of a cameraman.

*Must be able to cum all over me (Face, Mouth, Tits)

Do you require the use of condoms or fuck bareback?
As much as I love to fuck bareback, I do require condoms for events, unless you are tested using the following testing facilities below. I only accept panel tests with include HIV-1 DNA by PCR & Chlamydia, Syphilis, and Gonorrhea.
Heath test MUST have been given within seven (5) days of the Meet 'N Greet.
No Exceptions. You can get these test done via the clinics listed below:<

Cutting Edge Testing

Talent Testing Service (TTS)

Just Get Tested

Is Age An Issue?

Yes, nobody under the age of 18. If you think you are to young you probably are. 
Will video and photos be taken of the action?
Yes, however, we will avoid filming your face. You are welcome to wear a mask to protect your identity if you wish.

How much does a party cost?

I do this for fun and for my website. However, I do require travel for two (2) and one (1) hotel room, which can be taken care of through paypal. Split this among your friends and the price is very low. With that said I'm not a travel agent so I am unsure of the costs. I will fly out of Nashville (BNA) to any event. 

Why do you need travel for two?

My husband is the camera guy. So he is always traveling with me. 

Is your husband a cuckold?

 No, just a secure freak who loves to share me with everyone.

When We Meet:

I love to fuck however, there is some things that I may or may not do. To help us have a truly awesome time together I have listed below my thoughts on a few things you might want to do.

Swallowing:

 Yes, I love to swallow cum from random guys.

Bukkake:

Yes, please! The more cum on or in me the better!

Gangbang:

 I absolutely love to be gangbanged by random groups of guys so if you have some friends who would like to gangbang me then please let me know. Six (6) guys or MORE is perfect.

Ass Fucking:

I will do anal occasionally however, my ass is not always on the menu.

What I'm Interested In:
* Gangbang * Bukkake * Face Fucking * Cum Dumpster * Interracial

Where:

 The location is based on where ever YOU organize a party with your friends or a group of guys. I DON'T plan the party or get the guys together. I'm NOT a party planner. I simply do not have that kind of time. So if you are a group of guys who can organize a gangbang, blow-bang or a bukkake. Lets talk and work out the details.

When:

 Whenever you can get a group of guys together.

Who:

Myself and all your friends.

What:

Meet 'n Greets are intended for a group of fans for the purpose of filming a gangbang, a blow-bang, and/or a bukkake. The content will be shown here at LisaSparxxx.com. If you have any questions please feel free to contact me at lisa(@)lisasparxxx.com